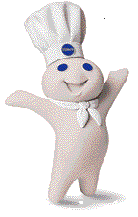 Pade has excelled herself with three delicious recipes, all including asparagus, plus a note on the health benefits derived from eating it.
Cringletie House appears again with another award given to their Hotel Chef of the Year, Paul Hart, and information about booking.
A –Z for Happy Bellies
A Wee A –Z for Happy Bellies
By Pade Ross
Extracts from her Receipt Book Asparagus Contains:
Recipes for sensual, caressing, warming, cooling, heartening, comforting, delicious, exciting, harmonising, smooth, rough, sophisticated, tough, tasty and easy Food for Friends
The celebration of being alive, large, small, poor, or rich, Christian, Buddhist, Moslem, Jewish, Japanese or Communist, vegan, vegetarian or omnivore, together at one table.
Wee Notes
For the "wee notes", which you can read – or not - I am grateful to:
Earl Mindell for The Vitamin Bible and The Food Medicine Bible
Thorsons, for The Complete Guide to Vitamins and Minerals Prevention for New Foods for Healing
Dr. Christina Scott-Moncrieff for The Vitamin Alphabet
Michael van Straten and Barbara Griggs for Super Foods
Phyllis and James Balch for Prescription for Nutritional Healing
Arnold and David Bender for Oxford Dictionary of Food and Nutrition
James Duke for The Green Pharmacy
Denise Mortimore for The Complete Illustrated Guide to Vitamins and Minerals
If you have any recipies or hints on cooking, would you like to send some of it to us? Email editor@anAurora.co.uk